Become a PADI Freediver
No Tank Needed!!
Learn about Freediving with Odyssey Expeditions and earn PADI Freediving certifications.
Freediving course and certifications are offered on our
SEA Voyages
and are completely optional
All the students that have tried it had complete success and they all loved it, it may look hard, but it is not, don't let the look of the challenge scare you away!
Check out the official PADI blog post about Odyssey Freediving!
Freediving is about inward power, discipline and control. If you've always wanted to enter the underwater world quietly, on your own terms, staying as long as your breath allows, then freediving is for you. Taking the PADI Freediver course is your first step toward discovering why freediving is becoming a popular way to explore beneath the waves.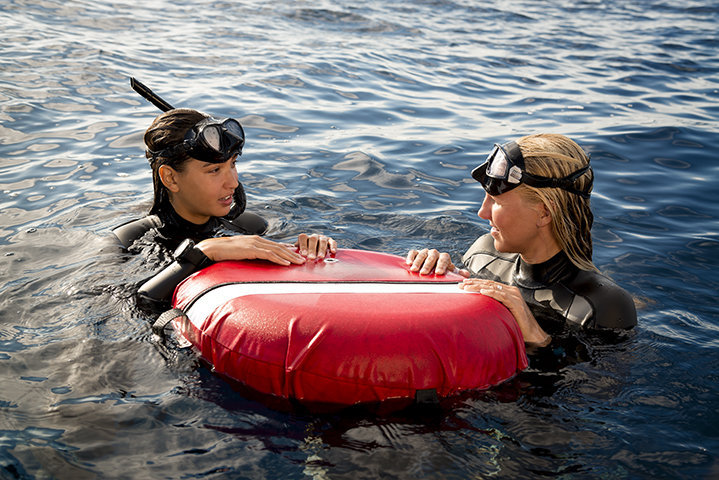 WHY FREEDIVE?
LESS GEAR
Simplicity of freediving is addictive
Not burdened with extra gear
I could move and play in the water like I wanted to.
Fast and agile like the animals around me.
INTERACTION WITH WILDLIFE
I felt more in touch with the environment
I could actually hear the fish and invertebrates.
Timid underwater creatures may be alarmed by the bubbles from a scuba diver, but as the freediver is silent, I can observe fishes and creatures without changing their behavior or scaring them away!
The dolphins consider it play when you freedive. Where I go the sea floor is probably 30 to 50 feet. I aspire to 50 feet, to cover the entire water column with the dolphins.
LEARN ABOUT YOURSELF
Freediving is where meditation meets endurance.
Learning about the mammalian dive reflex
Learn more about myself every time I go down to depth on one breath.
No choice but to relax and be completely present with the very moment.
No stress, no distracting thoughts
Instead of two, 50-60 minute scuba dives in a day, I canspend 4-5 hours in the water, cover a lot more ground up and down the reef, and it is better exercise.
It's economical, it requires skill, it builds skill, it's healthy and some of the best exercise I can get, it's a great leg workout, I can glide around with great stealth, I can spend the whole day out there, get dinner, and the gear cleanup is minimal.
ADVANTAGES OF FREEDIVING
With scuba you are always looking at your watch and pressure gauge and your dive is going to last X amount of minutes. Without the tank you stay out as long as you feel like it.
It's much nicer to be sleek and nimble
I enjoy the sense of accomplishment, since when I freedive,
The two minutes a person spends underwater on a freedive are more intense than an entire hour on scuba gear.
Humans have been freediving for thousands of years for numerous reasons, such as war, exploration, forage in search of food etc.
When you go underwater, you will be one with the ocean and experience its silence and beauty
While others may dive deeper and longer, a 45-second dive to 30 feet places you in the action. Since most of the ocean's color and animal life resides within 30 feet of the surface, there's little reason to go deeper. Forty-five seconds buys you enough time to gather game, take a photo or simply mingle as one with the fish. Best of all, the average person can master these dives.
You needn't be an athlete to enjoy freediving because the sport is more about mind-set, technique and correct weighting than strength. Your goal is to join the water, rolling with the gentle sea surface, never fighting it. When you learn the basic surface dive, you'll find that it takes very little energy to slip below the surface. Relaxed and confident, you choose the depth and duration of each dive. You'll be amazed how quickly your first 15-second dives become 30 seconds, 45 seconds,long enough to dive through 30 feet.
About the PADI Freediving Course
The PADI Freediver course consists of three main phases:
Knowledge Development

about freediving principles through independent study with the PADI Freediver Touch and classroom sessions with your instructor.

Confined Water Session

to learn breathhold techniques as well as static and dynamic apnea. Goal : static apnea of 90 seconds and dynamic apnea of 25 metres/80 feet.

Open Water Sessions

to practice free immersion and constant weight freedives, plus proper buddy procedures. Goal : constant weight freedive of 10 metres/30 feet.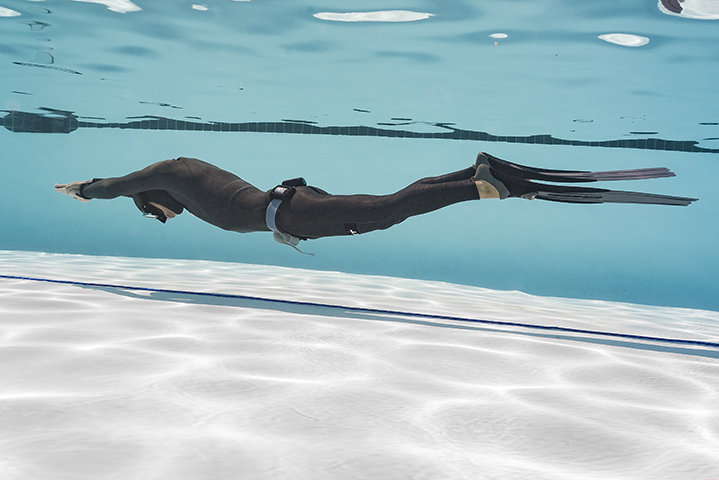 Achieving a new freediving time or reaching a new depth is an incredible feeling. It satisfies that very personal desire to do your best and be proud of what you can accomplish. The PADI Advanced Freediver course is designed to fulfill that personal need to refine and improve your freediving skills, allowing you to progress slowly while learning how your body performs during apnea.
TOPICS

Breathholding

mammalian diving reflex
relaxation techniques
NOT hyperventilating
finding your third,fourth,and fith extra lungs

Freediving Techniques

body position
easy ear clearing
kicking strokes
gliding period
freediving and photography

Equipment

best masks/fins/wetbelt and wetsuit for freediving
necessary safety equipment
cameras

Safety

always using budding team, one up, one down
never hyperventilating

Competition

personal bests
static apnea
dynamic apnea
depth record
ACTIVITIES

Pool sessions
Static apnea practice
Dynamic apnea practice
Depth records
Diver rescue practice
Spotting your buddy
Spearfishing
Lionfish hunting
Our voyages featuring Freediving certificaitons as well as marine biology, scuba diving, and sailing instruction on 21-day adventures in the Grenadine Islands aboard 45 foot sailing catamarans.

S.E.A. VOYAGES (earn advanced and freediver certifications, for certified divers, can be taken for school marine biology credit recommendation)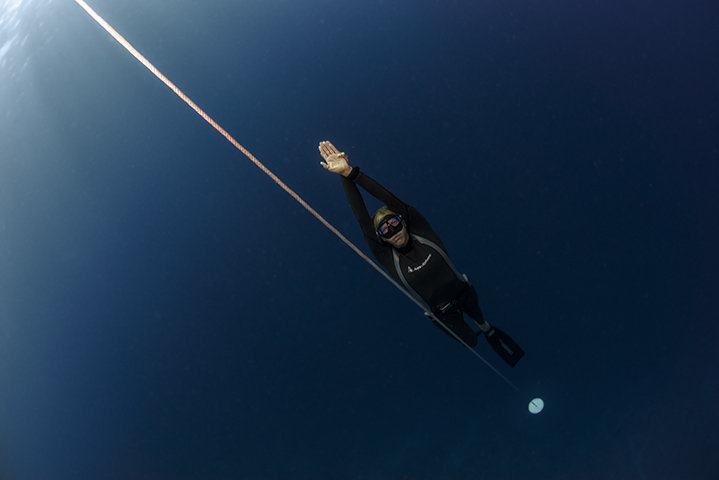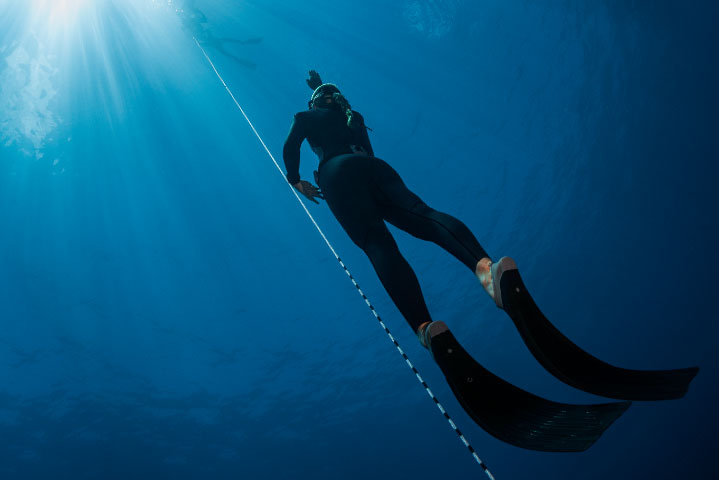 FREQUENTLY ASKED FREEDIVING QUESTIONS
HOW IS FREEDIVING DIFFERENT FROM SNORKELING OR SKIN DIVING?
Snorkeling is the casual act of putting on a mask and snorkel and looking below while floating. Snorkelers may not have any training and generally spend most of the time on the surface. Skin diving takes snorkeling a step further by adding short dives underwater. Skin divers may have training that teaches skills, such as efficient dives and snorkel-clearing. Freediving uses advanced breathing techniques and diving skills to increase depth and time underwater. Through training, freedivers learn conserve oxygen while breathholding while practicing different freediving disciplines, such as static apnea, dynamic apnea, free immersion and constant weight freedives.
HOW DO I LEARN TO FREEDIVE?
The PADI Freediver course contains three phases knowledge development, a confined water sessions and open water sessions. During knowledge development you learn about how your body reacts to breathholding and how water pressure affects you as you dive down. You also learn about freediving equipment, important safety rules and buddy procedures.
In confined water, such as a swimming pool, you learn breathing techniques, then practice breathholds while floating (static apnea) and while swimming (dynamic apnea). You also practice basic rescue techniques and learn your role as a buddy.
During at least two open water sessions, you practice diving down while breathholding, either by pulling yourself along a line (free immersion) or duck diving head first while following a line (constant weight). You learn to gradually increase your depths by relaxing and enjoying each dive. Rescue practice is another key part of the open water sessions.
HOW LONG DOES IT TAKE TO GET CERTIFIED?
The PADI Freediver course is flexible and performance based, which means that your PADI dive shop and PADI Freediver Instructor can offer a wide variety of schedules, organized according to how fast you progress.
Knowledge development is handled through independent study with the PADI Freediver TouchTM an interactive tablet based app. You pace yourself as you work through each topic, then complete an overall Knowledge Review, then an Exam.
There are at least three water sessions that will likely be scheduled on separate days. So, your training may take two to three days or longer. The recommended course duration is 15 hours.
During confined and open water sessions, your PADI Freediver Instructor will focus on helping you become a confident and comfortable freediver, not on how long it takes. You earn your certification based on demonstrating you know what you need to know and can do what you need to do. This means that you progress at your own pace ( faster or slower depending upon the time you need ) to become a competent freediver.
WHAT ARE THE DIFFERENT PADI FREEDIVER CERTIFICATION LEVELS WITH ODYSSEY EXPEDITIONS?
PADI Freediver course Develops the knowledge and skills for basic static apnea, dynamic apnea, free immersion and constant weight freediving from 10-16 metres/30-55 feet. When completing open water training is not feasible or desirable, students complete just the knowledge and confined water skill portion of the PADI Freediver course (6 metres/20 feet maximum) to earn the PADI Basic Freediver rating.
PADI Advanced Freediver course Expands knowledge and skills, and with further development in static apnea, dynamic apnea, free immersion and constant weight freediving from 16-24 metres/55-80 feet.
MY EARS HURT WHEN I GO TO THE BOTTOM OF A SWIMMING POOL OR WHEN I DIVE DOWN SNORKELING. WILL THAT PREVENT ME FROM BECOMING A FREEDIVER?
No, assuming you have no irregularities in your ears and sinuses. The discomfort is the normal effect of water pressure pressing in on your ear drums. Fortunately, our bodies are designed to adjust for pressure changes in our ears, you just need to learn how. If you have no difficulties adjusting to air pressure during flying, you'll probably experience no problem learning to adjust to water pressure while freediving.