Welcome to St Lucia! Arrive into the airport and journey on a scenic ride along the coastline and through the mountains to Rodney Bay, our home base in St Lucia, where you will join your yacht and meet your fellow shipmates and get settled in. Learn some knots, go to the pool and enjoy the beautiful Caribbean atmosphere.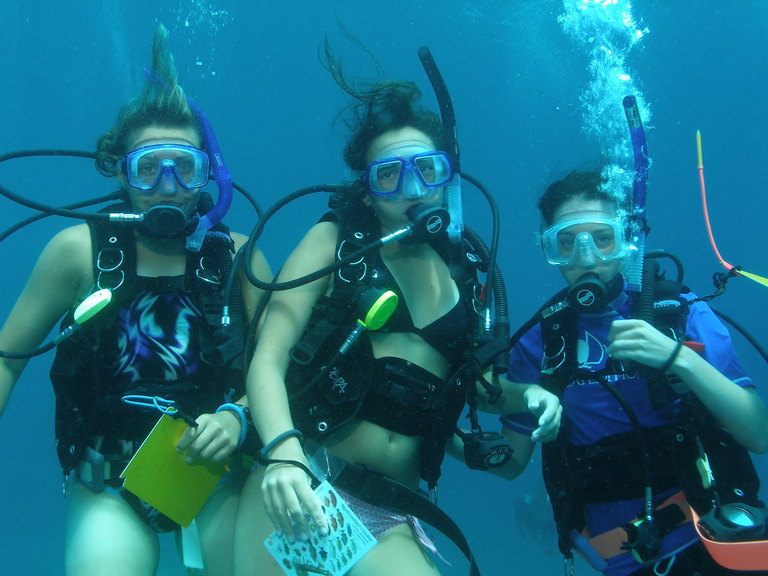 First a quick safety briefing with the captain before we begin to learn the ropes and all about sailing. After a chance to go shopping ashore, we cast our lines off the dock and head out to sea for our first sailing adventure with you as crew!. We learn to hoist the mainsail and bring out the jib, and complete a couple tacks and jibes as we turn the catamaran through the wind and learn some different points of sail. We sail across Rodney Bay to Fort Rodney and Pigeon Island, where we head ashore to explore an old English fort, checking out the dungeon and climbing to the peak to see Martinique in the distance to the north. Next we suit up in our snorkeling gear to check out some historic Carib indian caves and explore the reef along the shore, learning a bit about freediving and some of the fishes. We anchor here for the evening and enjoy the sound of music drifting across the water from the Sandals resort ashore.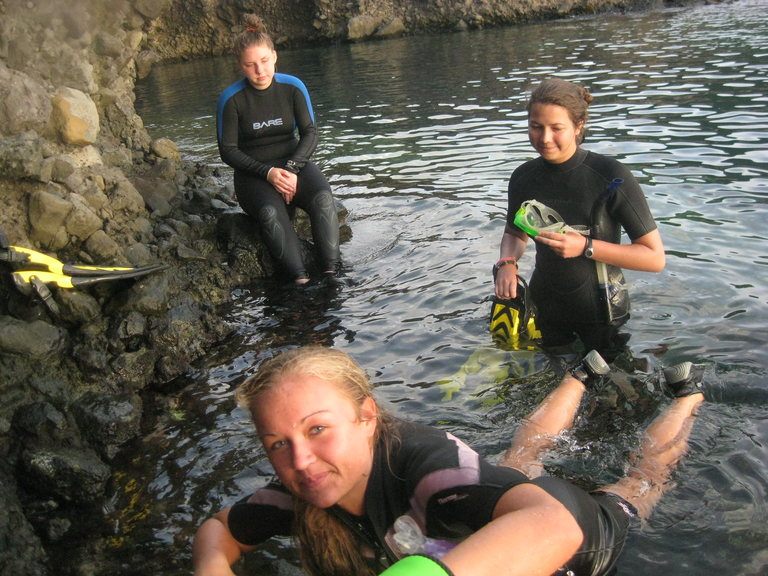 With sun drenched days and warm winds, we are growing comfortable with life aboard and everyone gets to try out important roles like skipper, first-mate, chef and dive safety officer. We have a big sail today, departing St Lucia and heading north to Martinique, about a 20 mile journey. Possibly see some dolphins along our journey, we are starting to get the hang of the sailing and take turns at the helm practicing steering and handling the lines. After a couple hours we arrive in Petite Anse D'Arlet (its French, we are now actually in France, but what does all that mean you ask? Petite is 'small', Anse is 'in the shape of a cup handle, also beach' and D'Arlet is somebodies name, so 'small beach named D'Arlet)... Here in this beautiful white sandy bay with swimming pool like conditions (except for the beautiful reef with tropical fishes), a perfect place for us to start our PADI Open Water SCUBA training.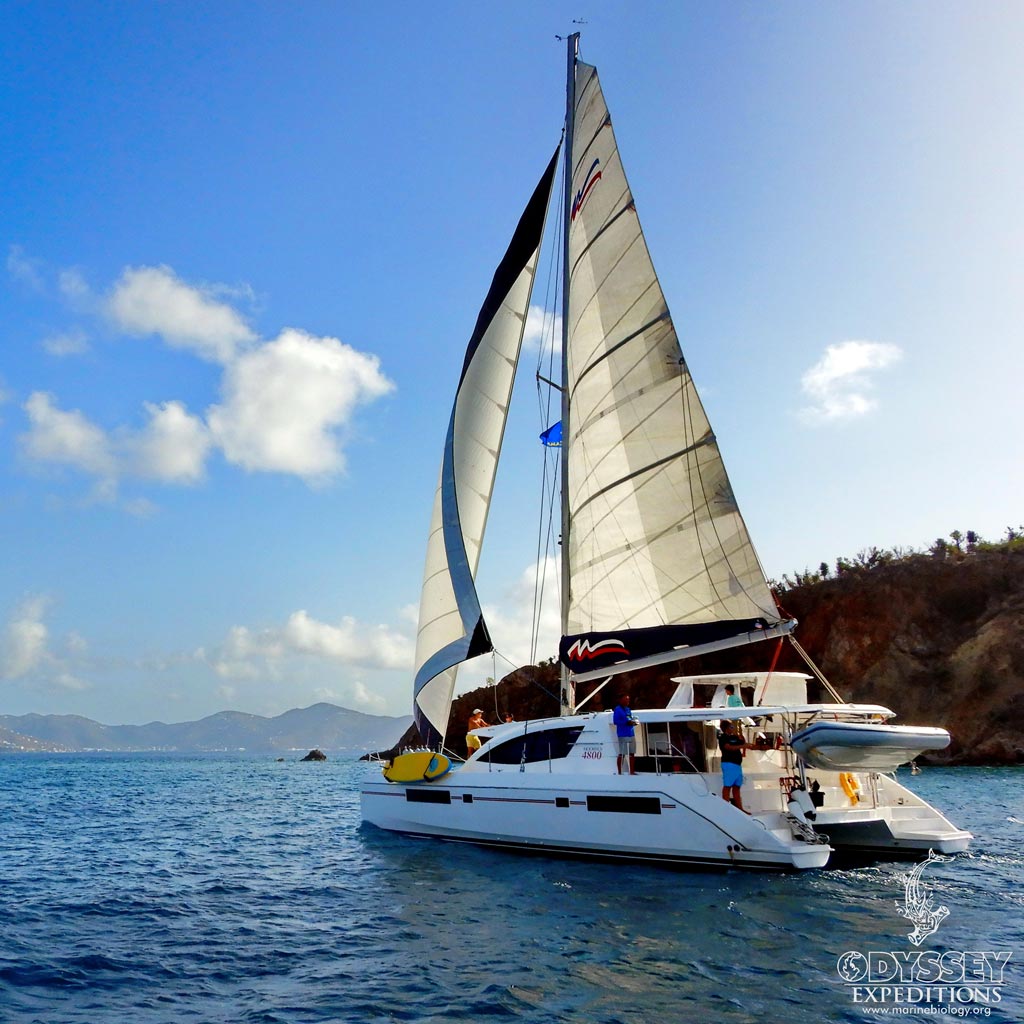 We continue our SCUBA training with a couple more confined water dives on the easy sandy bottom with jaunts over to a small, beautiful reef. You follow this up with some watersports and then a journey ashore to check out some French pastries, see some beautiful architecture and meet some locals!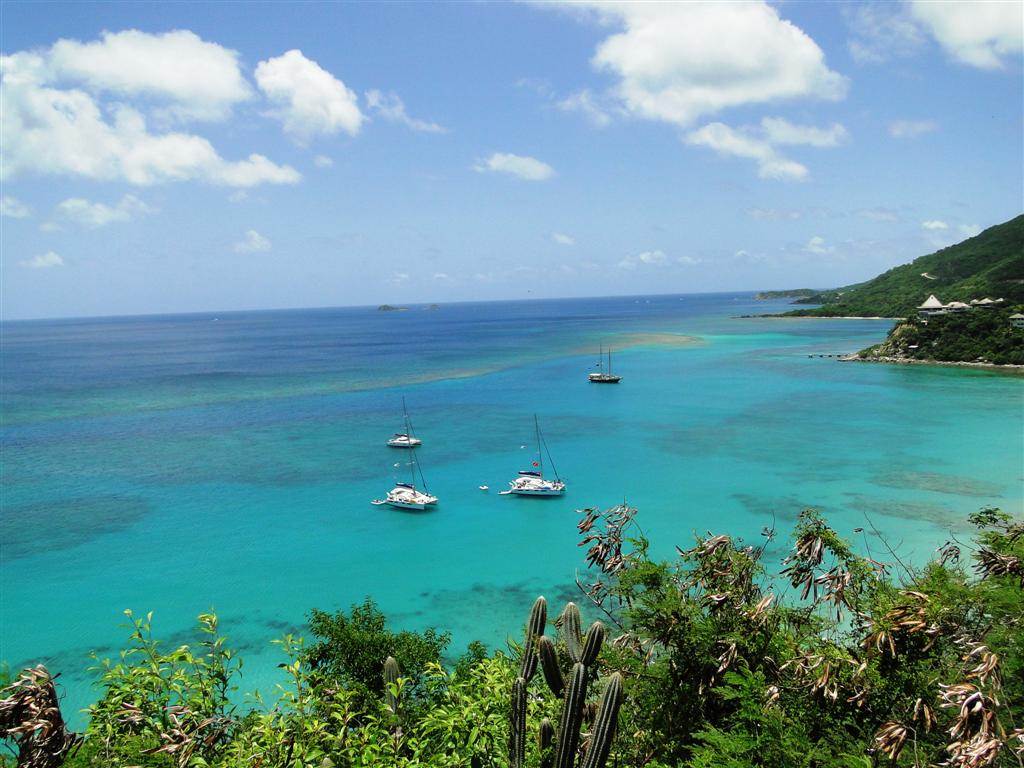 We hike to the rocky intertidal for biology investigations and assist in a community service effort to clean up the shoreline from plastic debris. A short sail to Anse Noir and we start developing our fish and creature identification skills with our resident marine biologist. We start our PADI Open Water Checkout Training dives and visit a secret hideaway pool few others know about for some cliff jumping.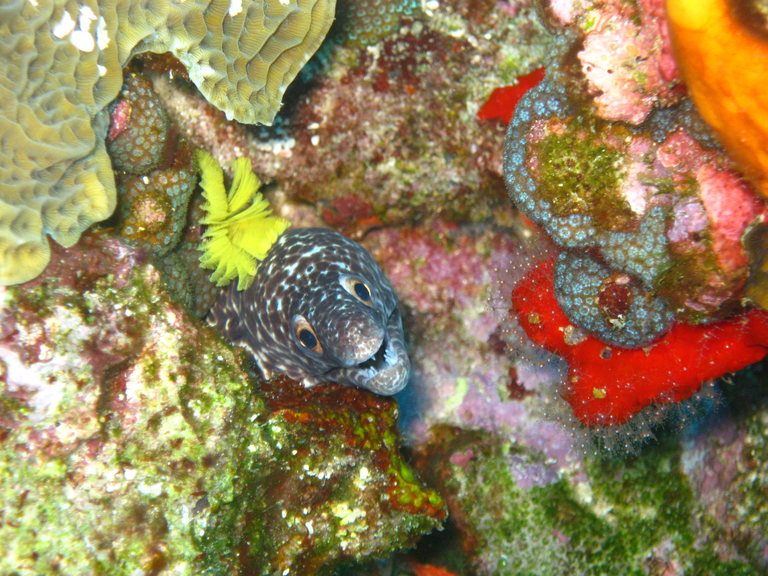 Up early to visit one of the most stunning sites in the Martinique The Bat Caves. Gigantic caves into the hillside that are both above and below the waterline. Today we will be finishing our Open Water SCUBA certification and become certified divers. We get to do this at the Bat Caves. Later we sail up to Trois Islet and get a chance to go ashore for some cultural exploration and eating at a French restaurant for dinner.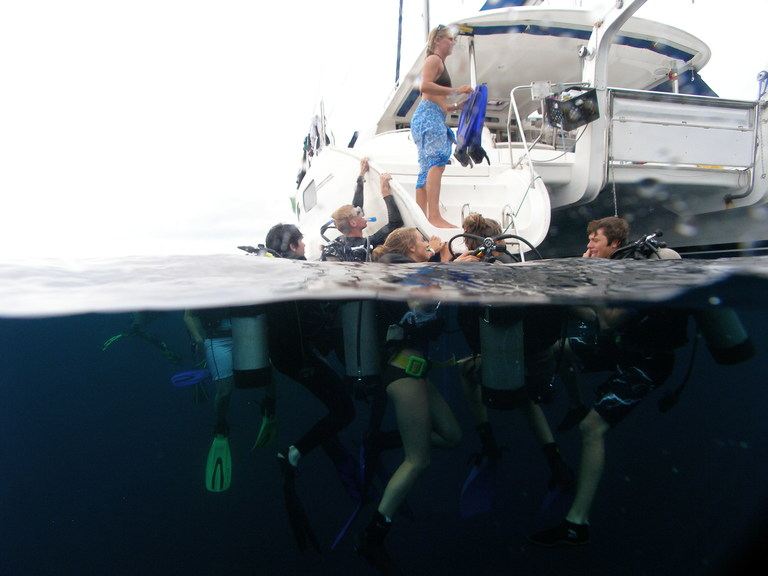 With our SCUBA certification under our belt, its time to get down to business explore the reefs underwater! First we dive the Nahoon shipwreck (a mixed sail and steam ship from 1911) a wreck heavily colonized by corals and reef fish with some pelagics. From here we are going to deepen our scuba knowledge working on our PADI Advanced SCUBA certification. We sail up the coast to the North of Martinque to visit the reefs and shipwrecks around St Piere (which was infamously destroyed in the volcanic eruption of Mt Pele in 1904)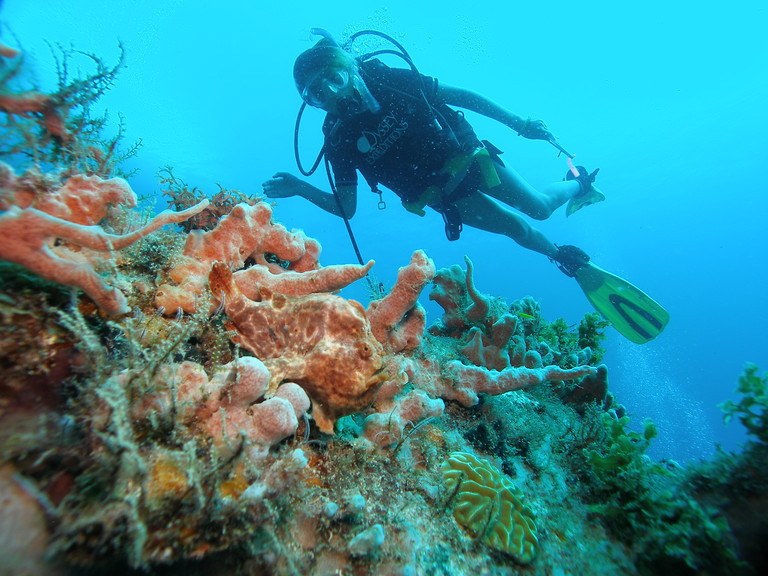 Today we do some island exploration with a climb up to the peak of Mt Pele! A semi-active volcano with a rainforest on it flanks as we climb up to a peak at 4000 feet! Exploring the town of St Piere later shows us the amazing resilience of the town and the beauty of their architecture and people.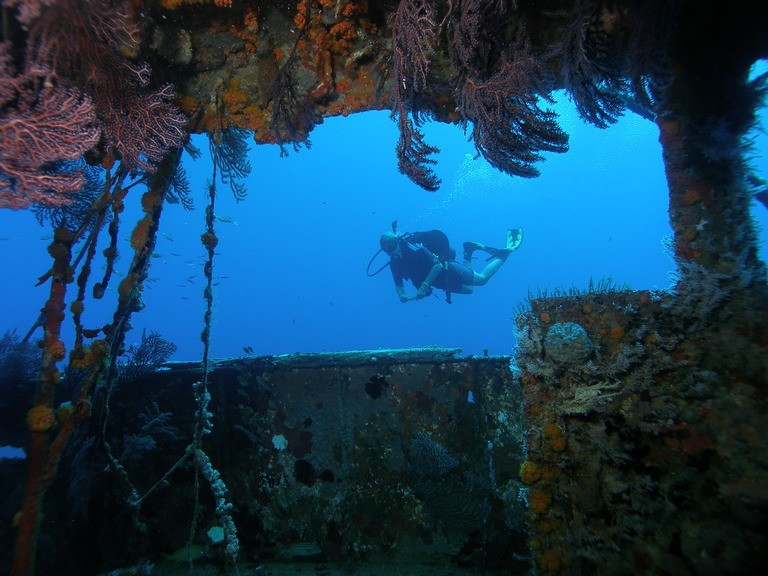 Visiting the marine park at the north is a Pearl, Pearl Island and a island that looks like a submarine (La Sous Marin). The reefs in the marine park are spectacularly preserved and beautiful.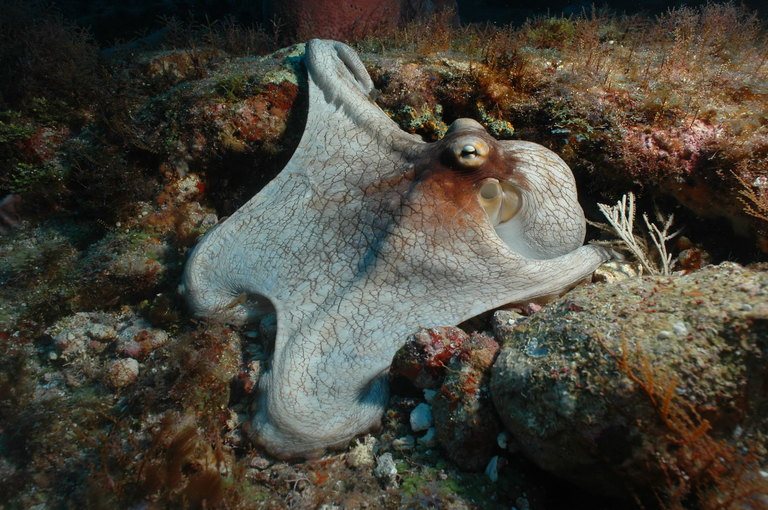 We sail south to Pointe Bornese, a naturally protected lagoon fully colinized by corals and fauna like moray eels, seahorses and more. This is a great place for a night dive!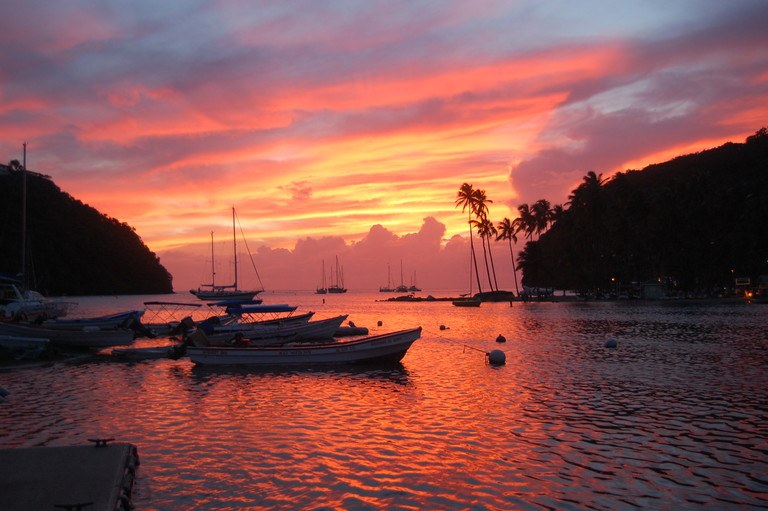 We sail from Martinique down to St Lucia today, diving first at the Diamond in the South, (Rochuer du Diamont -Diamond Rock), a tall rugged rocky island that Napoleon actually christened as a ship of war! Underneath is beautiful clear water, archways and more. THen we are off back to St Lucia, we sail down to the town of Soufriere and check in with customs before heading up to a hot spring waterfall!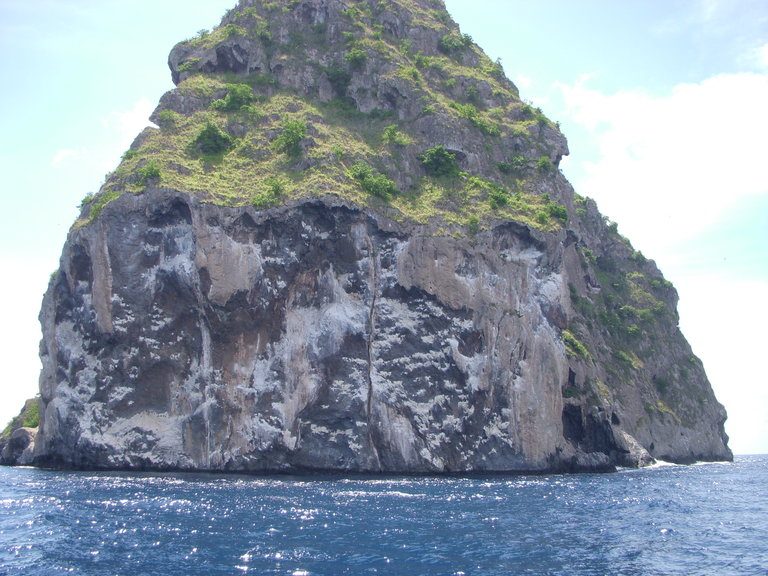 We get to dive some of the clearest water in the Windwards today, diving along the Pitons of St Lucia at sites such as 'Supermans Flight' and 'Coral Gardens', then we head ashore a explore some resort time underneath the Pitons.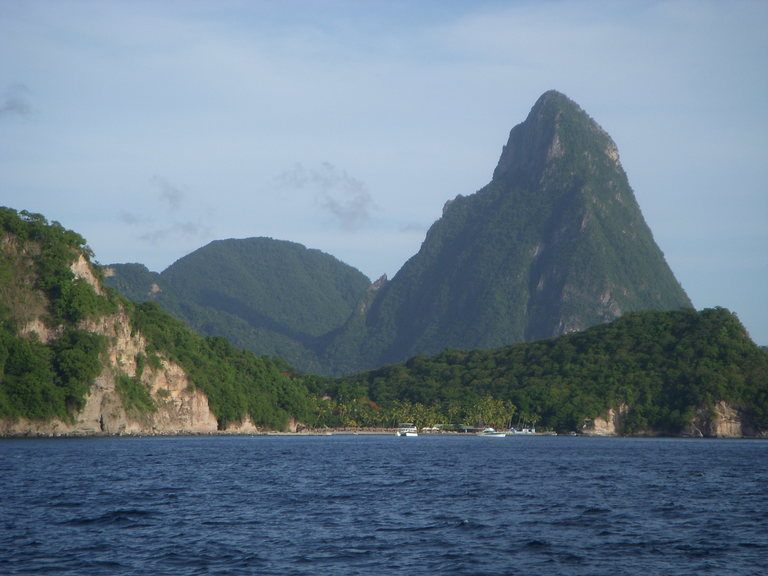 The last dive is a beauty, we travel back north a bit to Anse Cachone and dive a fantastic shipwreck, the Lesleen M, (the Wreck of a cargo vessel sunk as an artificial reef in 1986. Sits upright on a sandy bottom at a max depth of 65ft/20M. The 167ft/51M long wreck offers open access to the surface and is inhabited by many types of marine life including Lobster, Moray Eels and reef fish. Stunningly colourful and pretty dive.) and then sail up to our home port of Rodney Bay to enjoy a pizza party ashore.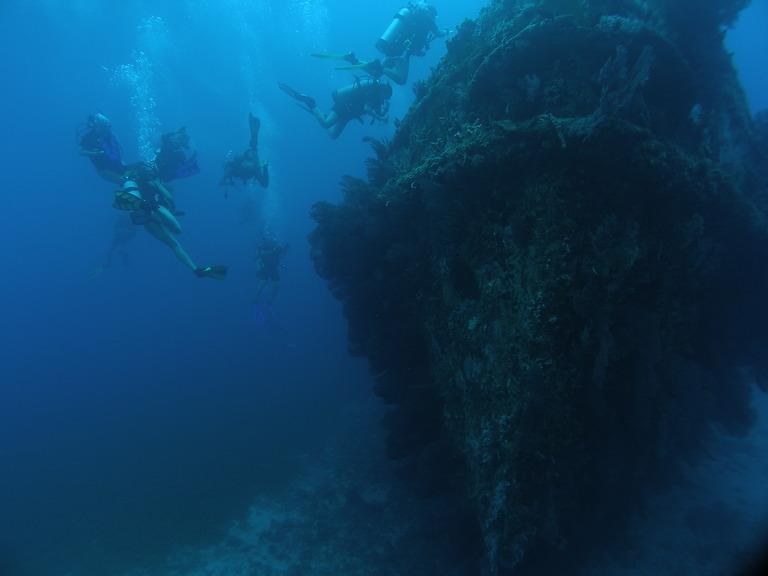 We brush the sand from our feet and say our goodbyes. Good friends. Splash On...Its our final goodbyes as we depart the vessel, but the adventure is not over yet, on our way back south to the airport we stop by the ziplining adventure park for one more adventure with our shipmates.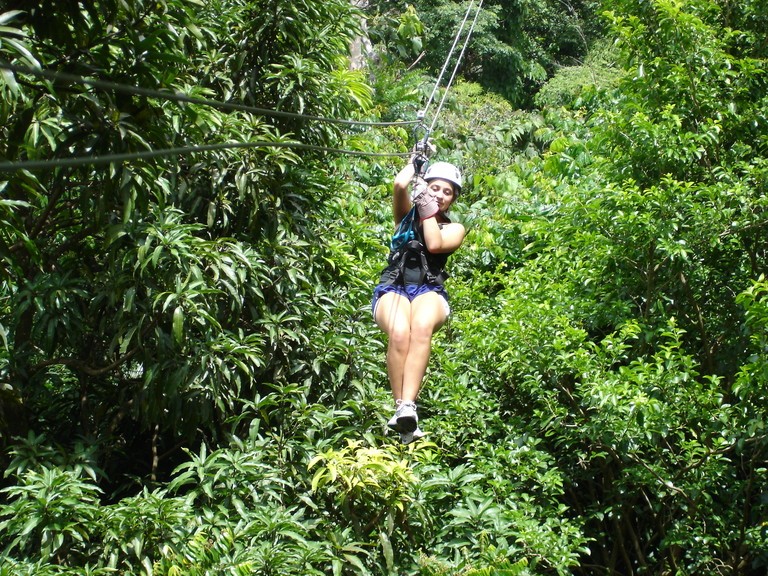 *The actual voyage itinrary and activities are subject to change due to weather or other elements outside of our control. The preceding is provided as a sample itinerary of what is planned.