Sherwood MAGNUM Regulator - SRB5300
The high performance Magnum offers terrific comfort and value, and is compact for easy traveling. This precision-crafted regulator has two high-pressure ports which allow multiple options when configuring hoses, plus the flexibility to hook up additional gauges or computers.
FEATURES:

Sherwood's exclusive baffled and extended exhaust tee reduces bubble size and moves them out of your line of vision while reducing regulator bounce and jaw fatigue.
Patented primary air sensing channel system boosts breathing efficiency at high flow , letting you breathe easily throughout the dive.
Dry Air Bleed™ system prevents internal contamination and improves reliability.
MSRP $280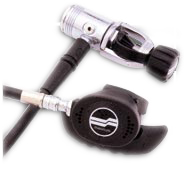 Sherwood Octopus, Alternate Air Source
The first regulator designed specifically as a backup air source, this reliable, economical safe-second octopus is 35% smaller than standard octos.
FEATURES:

Compact design reduces drag, won't snag, is easier to clear, and it's easy to locate when needed.
Omni-directional mouthpiece delivers air in all positions for quick access or exchange.
Reduces chance of free-flow, which reduces air consumption.
MSRP $130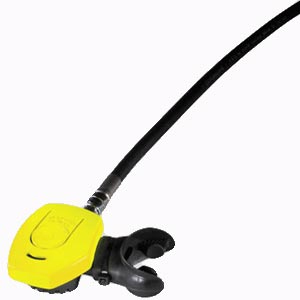 Sherwood Buoyancy Compensator BCD
Sherwood Scuba's ZODIAC+ BC incorporates thermoplastic polyurethane with an innovative, user friendly design. This BC Sets new standards for durability and ease-of-use among buoyancy compensators.
FEATURES:

Jacket style BCD.
Material adds a dimension of ruggedness and durability.
Easy to clean and store after a dive.
Extremely durable.
Unique speed-dry material is completely dry in five minutes. 1000 denier ballistic nylon construction
Adjustable & removable sternum strap
Adjustable length, depth compensating cummerbund
Adjustable tank locator strap
Rapid exhaust dump valve
Rapid pull dump
Knife and light shown in picture are NOT included!
Sizes XXS, XS, S, M
MSRP $420
Sherwood Profile Compact Navigation Console with Compass and SPG Air Pressure Guage
ProFile has one of the most intuitive displays available today. Color indicating bands and a logical layout of readouts provide information at a glance.
ProFile's time-tested algorithm reliably calculates, updates and displays no decompression limits throughout your dive, and if you get into a decompression situation it will give information for stops as deep as 60 feet.
FEATURES:

Analog ascent rate indicator with warnings
HydroGlow backlit display for easy reading in low light situations
Log: 50 — dive log
Maximum depth - 250 feet
Deco stops to 60 feet
Temperature readout
Standard or metric unit selectivity
Alarms - visual
Automatic altitude adjustment - to 14,000 feet
Consumer replaceable batteries
MSRP $470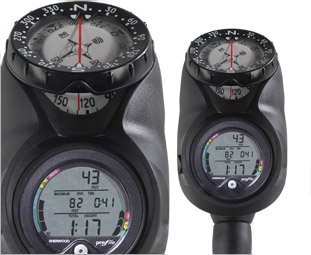 Order Details
We sell all scuba equipment used in our expeditions each year as to always have new equipment for use each summer. We have been using these models for six years now and find them to be the most reliable and toughest equipment available.
Yearly service will be performed and all parts subject to wear will be replaced as per service manual
All metal parts have been ultrasonically cleaned.
This equipment is sold as-is.
Our Prices are only 45% of the New Retail Suggested Prices, this is a bargain! Save 55%! Some recently purchased gear may not be pictured but is the same or higher quality.
Equipment is purchased as full sets only, and we have approximately 45 sets for sale.
Why pay for a 110% markup when you can save big and get Great Gear? Total MSRP is $1300
The cost for the full set, including Sherwood Regulator, Octopus, BCD and Dive Computer Console is only
$580 plus $30 Shipping.
Equipment is available for shipment in mid-September.
Order Now Using PayPal.com, a fast a secure form of online payment transactions.
Equipment will be shipped via UPS ground or USPS for Non-US call for info.
Or call us at 352.400.4076 to arrange for traditional payment and shipping.